Professional Window Screen Repair
That Brings Your Home to Life
Relax with your windows open or entertain on your patio. Enjoy the fresh air and natural light of the great outdoors, while keeping out insects and limiting pollen and the weather. By maintaining your window screens, Speedy Screen will ensure that your home is efficient, secure, and has increased curb appeal.
Your home could use some TLC
You love your home, but it's showing it's age. The screens are getting loose and wavy. The sides are frayed or your screens have snags and gaping holes. The screen frames are rusty and don't slide open like they used to.
Kids are beginning to spread rumors that you are the "spooky" house on the block.
You love fresh air, but you don't want to let insects or other pest into your home. So you leave your windows shut. And that makes your home stuffy, stale, and less comfortable.
You search for an affordable way to spruce up your home, but makeovers are expensive.
What can be done?
Let Speedy Screen help end that search.
You live in a home

not

a sealed box
Replacing your home window screens is a smart investment in the comfort, appearance, and energy efficiency of your home. Speedy Screen can help:
Fresh, properly-fitting screens can help improve indoor air quality, reducing allergens and pollutants in your home.
Replacing your screens can provide a tighter barrier against insects and other pests, keeping your home clean and healthy.
New screens can provide added security for your home, deterring intruders and protecting your family
Improved Energy Efficiency
New screens are often more energy efficient, helping regulate indoor air flow and reducing your heating and cooling costs.
Upgrading your screens can also increase the curb appeal and overall value of your home.
Patrick Lauer has been in the industry for over 14 years. As a former art teacher, he looks at each screen as a work of art. Patrick personally makes all repairs by hand, treating each tug or your screen like a canvas for art. Just like a work of art can add beauty to the inside of your home, Patrick feels that brand new screens for your windows, porch, sliding glass door can add the same beauty to the outside of your home.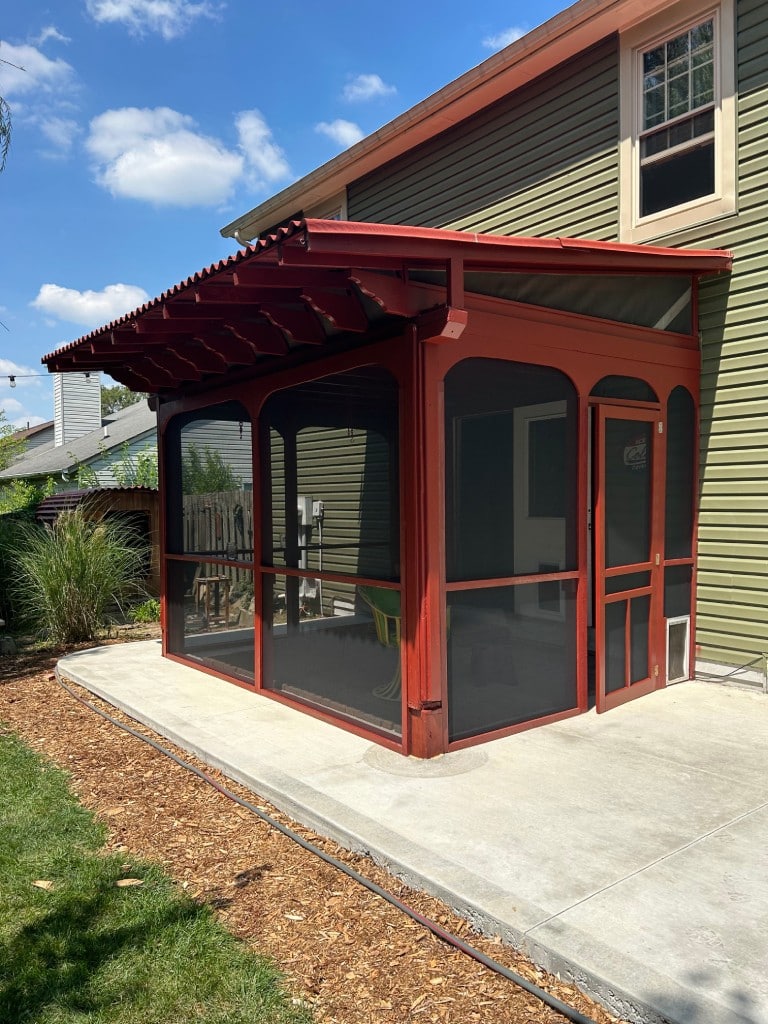 Hear What People Are Saying About Speedy Screen
"We had the screens on our porch completely redone. Multiple years later, when we sold our home, the screens were still in perfect condition! Speedy Screen did an EXCELLENT job! Great customer service, great finished product, even better price. I FULLY recommend Speedy Screen!"
"We had a full screened in patio redone. It turned out very very nice. Great quality work, proper materials and methods. No cut corners, budget concious, and excellent communication. Patrick did a great job, I highly recommend."
"After buying a house in need of some TLC, I had Speedy Screen re-screen all the windows. The customer service was excellent, prices very reasonable and the screens look great. I will definitely call Patrick again if I need screen repairs in the future."
Develop a repair plan custom to your needs
Enjoy the beauty and flexibility of your newly screened home
Have new screens breathe
life

back into your home.
Bring fresh air into your home
Start using that forgotten backyard porch